Delhi, Chennai and Kolkata campuses take part in debate competition by St. Xavier's College
Loreto College lifts the champion's trophy, St. Xavier's University Kolkata is runner-up at X-Conferno'21
X-Conferno: Unshackle Inhibitions, organised by the Xavier's Management Society (XMS) of St. Xavier's College, got a bunch of bright minds from 13 colleges and universities across India to fight it out for the 'Best Team' title.
The week-long debate festival started on February 6 and had the house debating virtually on diverse topics, ranging from artificial intelligence and capital punishment to the barriers affecting trade and technology.
Institutes that took part include Shri Ram College of Commerce, Presidency University, Miranda House, Madras Christian College, St. Xavier's University, Shri Shikshayatan College, Keshav Mahavidyalaya, Dyal Singh College, JD Birla Institute, Loreto College, Jadavpur University and St. Xavier's College.
The festival culminated with a panel discussion and an inspiring keynote address. The virtual panel discussion on 'the impact of social media on journalism' featured SheThePeople founder Shaili Chopra and columnist Santosh Desai as panelists. The keynote address was delivered by Vineet Nayar, founder of Sampark Foundation.
"Even though we held X-Conferno on a virtual platform, we made sure it was nothing short of an intellectually stimulating and enlightening experience. Life is about reaching our true potential and I am extremely proud of the zeal and ability that our students have shown," said Father Dominic Savio, principal of St. Xavier's College.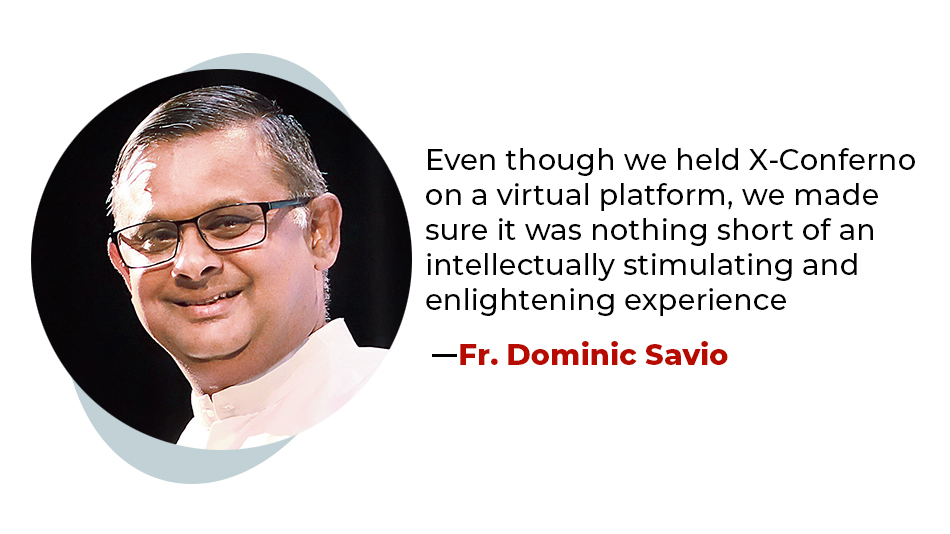 War of words
St. Xavier's University and Loreto College made it to the finals. St. Xavier's University was represented by Moumita Layek, Syed Zulfiqar Quli and Yuvraj Chatterjee, while Loreto College had Kanika Khetan, Debaroti Adhikary and Ritansha Banerjee.
Loreto College was crowned champions and Debaroti Adhikary bagged the 'Best Speaker' title.
The judges' panel comprised theatre veteran Ramanjit Kaur, writer Saira Shah and Meghdut RoyChowdhury, director of global operations at Techno India Group.
"Organising a national-level inter-college competition online was unlike anything we've encountered before. We have learnt the importance and implications of time management, hard work, communication and how the right attitude and transparency can lead to achieving greatness," said Zohaib Murad, a third-year BBA student who is the joint secretary of Xavier's Management Society.