Money Heist's Tokyo applauds Aratrika Basu's Dali mask graffiti at Jadavpur University
'Watching Tokyo take the name of our university feels overwhelming and I am beyond words,' says the Philosophy student
She wasn't expecting fame when she posted her artwork on Twitter and tagged the Money Heist team, but that is exactly what happened this Monday.
Aratrika Basu's graffiti of the Dali mask on the Jadavpur University campus caught the attention of the Money Heist team and has put the South Kolkata campus in the global spotlight.
A recent Netflix video shows Ursula Corbero, who plays Tokyo in Money Heist, admiring fan-art from around India and mentioning Jadavpur University for the Dali mask.
"Money Heist is a very popular series and I am personally a big fan of it. But that wasn't the only inspiration. Jadavpur University has always taken a very unique stand in every political scenario, which is why I thought a wall in JU would be the perfect place to draw the mask," Aratrika told ABP Education on Monday night after the Netflix video went viral.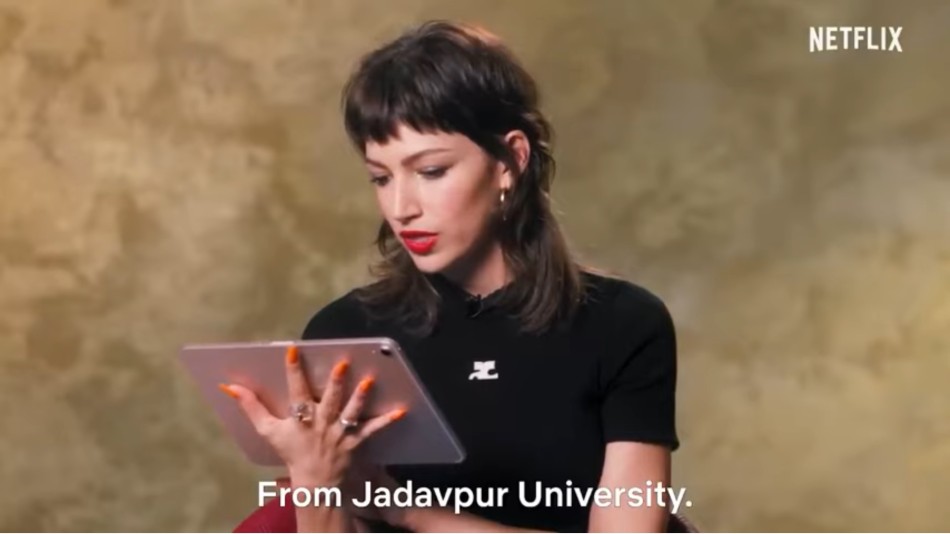 Aratrika, a second-year master's student of Philosophy at Jadavpur University, had painted the Dali mask in January 2021.
The video clip on Netflix's official YouTube channel shows Tokyo saying: "It's surreal to me that there are these walls in India with paintings from Money Heist and the Dali Mask. I love graffiti! This is great."
Which, of course, was a surreal moment for Aratrika. "It was beyond my expectation. When I finished the painting, I had decided to post it on Twitter tagging the Money Heist team but I did not expect them to notice me. Watching Tokyo take the name of our university feels overwhelming and I am beyond words. I cannot express the immense joy I am feeling," she added.
The Dali mask – moulded after surrealist painter Salvador Dali -- is a symbol of resistance in Money Heist where robbers dress in red jumpsuits and the signature mask with a moustache.
Bidu, who did his master's in International Relations from Jadavpur University this year, helped Aratrika paint the graffiti.
"Hello, team Money Heist (lacasadepapel). We love you. We are waiting for the next season. Love from India. We, Aratrika Basu and me drew Dali mask in our University campus wall. Take love. La resistencia!" tweeted Bidu after the Netflix video clip went viral.