Six college-goers tell us why they do theatre, on World Theatre Day
Stories of self-expression and skill building from the stage
From overcoming stage fright to being a more conscious citizen, performing on stage has made a big difference in the lives of these six youngsters. Hear it from them on World Theatre Day.
REETIKA DAS, second year, English, Vidyasagar College for Women
She's a part of: Borisha Srirongom Nattodol
How theatre helps her: "I have been comfortable on stage since I was a child because I am a dancer too. Gradually I learned about the world of theatre and my attachment to it grew. Theatre has given me the ability to be vocal and expressive in a room full of strangers. Theatre is my escape and it gives me confidence and the ability to analyse and be observant."
ELIZA ZAMAN, first year, Masters in Islamic History and Culture, Calcutta University.
She is a part of: Calcutta Theatre Co.
Why theatre is important to her:
"Theatre to me is nothing but an opportunity to escape reality yet be myself. The stage brings out a side of me that I didn't know I have. It feels like enlightenment. Even though it's not my bread and butter, unlike many, I don't know where I'd be or what I'd do without it."
SUBHRA CHANDRA, third year, English, St. Xavier's College (Autonomous) Kolkata
She's a part of: Xaverian Theatrical Society.
How theatre helps her: "I have been involved in theatre and street plays from the time I was in Class VI. Theatre has helped me to overcome stage fright. The thrill of the last-minute practice and performing in front of a live audience is what I love the most about theatre. It is a real-time experience rather than performing in front of the camera. I am inspired by actor Anirban Bhattacharya."
AAISHIKI BANERJEE, third year, Media Science, NSHM Knowledge Campus
She's a part of: Rangpeeth theatre group.
How theatre helps her:
"Theatre helps me build sophisticated expressions of a basic human need. It helped me build my personality and boost my confidence. I used to be a shy girl but theatre helped me overcome my shyness. It helped me build trust again. It has helped me develop patience and concentration."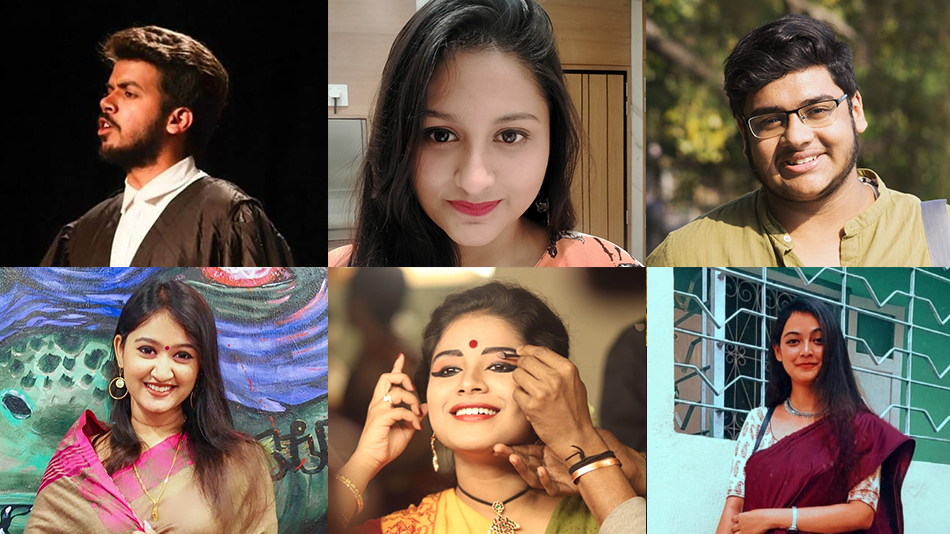 ANANT VERMA, third year, English, The Bhawanipur Education Society College
He's a part of: Theatre group Enact.
What theatre means to him:
"Theatre is not just a form of art or a hobby for me, it has been a process of knowing myself. Theatre has been a place where we have nurtured our creative side and the ability to observe people and things. Theatre for me is placing your mind and soul on the stage and expressing yourself to the fullest."
SUBHAYU CHATTERJEE, first year, Comparative Literature, Jadavpur University
He's a part of: Udbhab theatre group
How theatre helps him:
"Theatre makes me a better human being. It helps me become more aware of my surroundings and makes me a more conscious citizen. Theatre gives me the solace to find my world of dreams and freedom."