The other side of Dame Agatha Christie
Agatha Christie books you may not have read
'Murder will out' — someone screams inside your head every time you open a Hercule Poirot or Miss Marple book. But hold that thought for a moment as there is a mellower side to Agatha Christie most of us probably don't know about. Let's take a look into some of her lesser-known works that explore themes of love and romance even amid murder and mayhem. And what better occasion to bring them to light than on her birthday?
Mary Westmacott books
Written under the pseudonym Mary Westmacott, these novels gave Christie the chance to delve into the intrigues of human psychology. The first of this series of 6 books came out in 1930. The real identity of the author remained unknown for 20 years. Her regular publisher was wary of publishing these novels under Christie's name, which is why she had to approach another publisher later to get them published.
These bitter-sweet stories of love gave her the chance to thread together different human experiences and also enabled her to explore a completely different style of writing. The Mary Westmacott novels include Giant's Bread (1930), Unfinished Portrait (1934), Absent in the Spring(1944), The Rose and the Yew Tree (1947), A Daughter's a Daughter (1952) and The Burden (1956).
Parker Pyne Investigates
Published in 1934, this collection of short stories features 'a detective of the heart'! Parker Pyne is a 20th century therapist whose sessions are a deep dive into the human psyche. He can be relied on to find causes behind marriages falling apart as in The Case of the Discontented Husband or investigate crimes of passion as in The House of Shiraz. This ingenious therapist becomes so famous in his line of work that his identity is forged to commit blackmail in The Oracle at Delphi, the last story in this little book.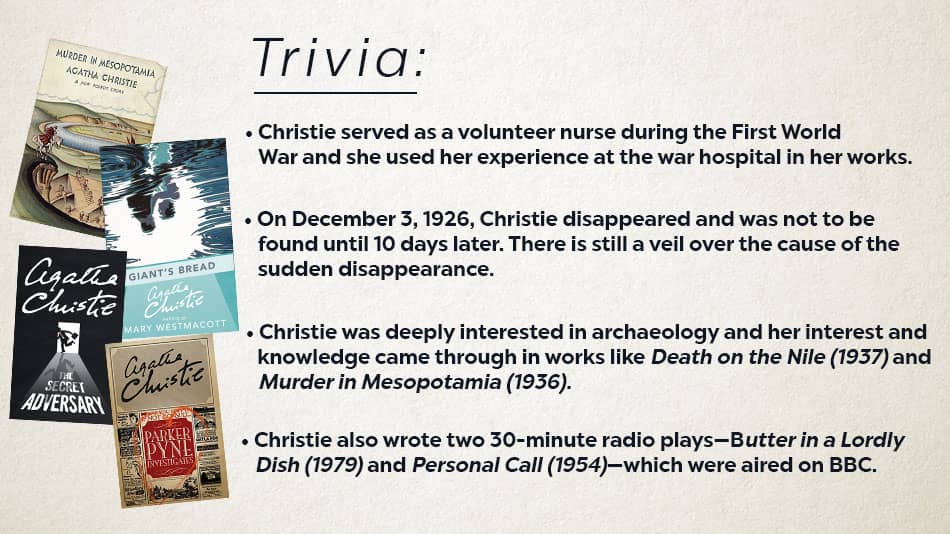 Tommy and Tuppence
Tommy and Tuppence are a couple who seek mysteries in the most unlikely of places. They feature in a few of Christie's novels like The Secret Adversary (1922) and By the Pricking of my Thumbs (1968). Both Tommy and Tuppence age in real time unlike their more famous compatriots like Poirot or Marple. These childhood friends who reunite and fall in love after the Great War age with grace and we get to follow them through till their retirement. Their hair turns grey and their legs become a little unsteady over time, but they never lose the spark in their eyes. The stories of this iconic couple were adapted first into a radio series in 1953 and then into a feature-length television show in 1983.