Maharaja Manindra Chandra College students spread festive cheer among tribal children in Jhargram
3 exceptional tribal students receive Shovan Kanti Roy scholarship of Rs 5,000 each
Students of the Journalism and Mass Communication (JMC) department at Maharaja Manindra Chandra (MMC) College visited Banspahari in Belpahari, Jhargram, October 9 to hand over new clothes, masks and sanitisers to 180 tribal underprivileged students of Jhargram High School.
Three meritorious and underprivileged students were awarded the Shovan Kanti Roy merit scholarship of Rs 5,000 each. The scholarship is named after a popular professor of the JMC department who passed away in an accident at a very young age.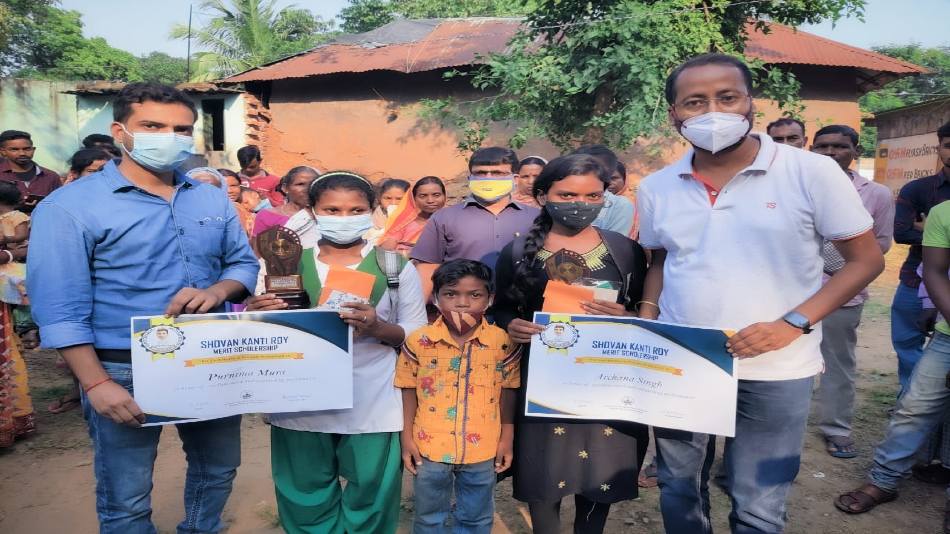 The tribal children aged 3 to 15 years sang and danced on the occasion and were taken on a tour of nearby puja pandals. They went home with food packets and smiles.
The JMC department has been doing its bit for children from poor families every Puja since 2010 and this year it joined the Banspahari Durgautsav Committee's initiative.
Biswajit Das, the head of the JMC department at Maharaja Manindra Chandra College, started the campaign in 2010 and soon more professors and students from different departments volunteered. "We want to share our joy with the less privileged and Durga Puja is the perfect time to do so. Students spend a part of their festive budget willingly for this noble purpose and that's what makes this so special," Das said.
"We are planning to visit Purulia next year. There are a lot of organisations to help the underprivileged in the city but hardly anyone reaches out to the people of remote villages," Das said.